Buy the Album (Right Here, Right Now)
"I just picked up the new Stringrays CD and I can't stop listening. The joy expressed in this music is inescapable, and all I want to do is dance. For me, this is desert-island stuff. Thanks for the music, guys!"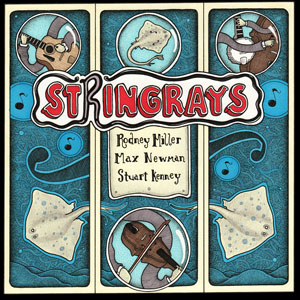 CD and Download
Physical copy of the album
and
a digital download of the album for instant gratification.
+$3 flat shipping (no matter how many you order)
worldwide shipping also available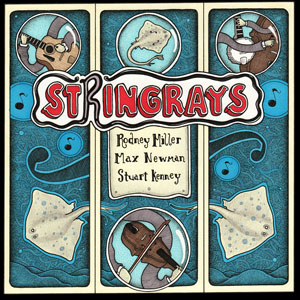 Download Only
A digital download of the album in high-quality mp3 320 format. Includes cover art and liner notes.
Thank you for supporting our music-making! Please if you have any questions or problems.
If you prefer, you can also pay by check, made out to Max Newman. Please send to Stringrays c/o Max Newman, 7 Silloway St Apt #2, Dorchester Center, MA 02124. The amount is $15 plus $3 flat shipping to US. (Wordwide shipping also available.)
More about the recording
Stringrays' 2014 self-titled album features the trio — Rodney, Max, & Stuart — on a variety of compositions new and old, including some of Rodney's as well as a few fiddle showstoppers like the novelty piece "Snake Charmer".
The music is complemented by Ben Belcher's lusciously detailed hand-drawn artwork throughout.
Tracklist
Up South (Scotty Leach) / Holloway (Hilary Dirlam) / Sparkle of Starlight (Rodney Miller)
East of Ballydesmond Polka No. 1 (Edel Sullivan) / Trip to Dingle (Alan Kelly)
Maysville / Estill Bingham's
Snake Charmer
Mary Devlin / Rumblestrip (both Sam Bartlett)
Cruisin' (Rodney Miller)
Mattie and Karine's (Aidan O'Rourke)
High Level (James Hill) / Archie Menzie's (John Lowe) / Madame Vanoni (J. Scott Skinner)
Boithrín Doire (Michael Rooney)
Rosetta (Earl Hines)
L'acadienne / Reel du quêteux Tremblay de Aimé Gagnon
Albert Ross
Le violon confesseur (Éric Favreau)